We now have Flu vaccines in stock! No appointment necessary, walk-ins are welcome for flu vaccinations.
We fill new and existing prescriptions in-store, by phone and online.
Transfer your prescriptions to our pharmacy using our simple and secure online transfer form.
Visit us in store or get in touch with a member of our pharmacy staff. We're always happy to assist you.

We fill new and existing prescriptions in-store, by phone, and online.

We offer express local delivery and shipping at no cost to you.

Our pharmacists work with you to coordinate benefits and find financial assistance.
Become a Pharmacy Insider
Subscribe to our newsletter for promotions, health news and savings
Your Pharmacy Experts
Trust Us With Your Health


At Patrick Square Pharmacy, we believe that being a local independent pharmacy means providing healthcare and medication services to our patients that are customized to meet their needs. Visit us today and let us take care of you.
We accept Medicare, Medicaid, and most commercial insurance plans

Download Our Free App.
Your health information in one place.

✓ Refill 24/7 »
✓ Set Reminders »
✓ Save on Medications »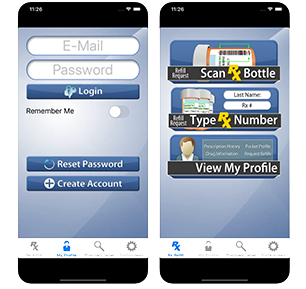 Fred A.
"The best pharmacists and the staff, Brock, Laurie & Lionel are efficient, knowledgeable and friendly. Just like the olden days, our neighborhood pharmacy instead of a National chain. Thank you!"

James L.
"I have been going to them for several months now, to say that I'm impressed wouldn't even cover it. I have tried 3 big chain pharmacies, to constantly be over charged or overlooked. I decided I wanted a hometown pharmacy and seen an article in the Seneca Journal about P.S.P. I called them and they made the transfer flawless. Not only do they know me by name when I go in, there are always the same smiling faces that you get to know.
Then to top it all off I recived a hand written card from the pharmacy team in the mail simply thanking me for my business and if I needed them to just call. BEST PHARMACY EVER!"
Patrick Square pharmacy combines high quality products with personalized care. Our staff will be happy to help you with any questions you may have.
We offer a wide variety of services including conventional prescription filling, compounding, medical equipment, medicare open enrollment and much more.
Check out our weekly health news blog, or subscribe to our newsletter and receive updates on health articles, promotions, specials and much more.

We'd Love to Hear From You
At Patrick Square Pharmacy, we're committed to helping you live a healthier life. Our pharmacy staff would be happy to help you with any questions you may have.